Over the past two years, the Global Genes Project efforts have been highly visible at the NIH for the annual World Rare Disease Day events.  In 2012, we presented Dr. Francis Collins and Dr. Steve Groft with a Rare Pictures of Hope™ photo book made by thousands of rare disease advocates.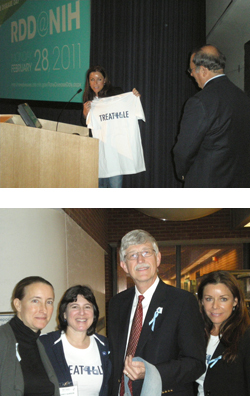 In 2011, Nicole Boice, co-founder of R.A.R.E and Global Genes Project had the opportunity to present Dr. John Gallin (pictured right), the head of the NIH Clinical Center, with a denim Genes Ribbon™ and a 'Treatable' t-shirt.
On the heels of a very compelling talk by Dr. Francis Collins (pictured bottom right), Director of NIH, Nicole Boice and Audrey Gordon, executive director of the Progeria Research Foundation, presented Dr. Collins with a 3ft denim ribbon, the symbol of hope for the rare disease community.
Drs. Collins and Groft both wore  jeans to the NIH Rare Disease Day events and encouraged all attendees in 2013 to wear jeans in support of the campaign and the rare disease community as a whole!